Predictability is one of the most comforting parts of being in education. Our traditions, calendar, and milestones are set from year to year. The familiarity of classmates and routines help give structure to what we do each day. What makes this year so challenging and often frustrating is that it is a moving target. We are handling issues we have never handled before, and our most important focus is health and safety. As always, we are here to support you and your children. We will always look at this as a partnership, and thank you for all you do to help us do our jobs and do them well.
I often speak of my mother, who helped shape me into the person I am today, but my father, Jim Spiliotes, who passed away in 2013, was equally impactful. My father was a Technical Sergeant in World War II during the Battle of the Bulge in Germany. Jim, affectionately known as Papou, was a strong, loyal, and dedicated father who was an extrovert and the life of the party. He was always ready to share a nugget of wisdom or lend comfort to people as they struggled. Problem solving, creativity, and empathy were all great attributes of my father.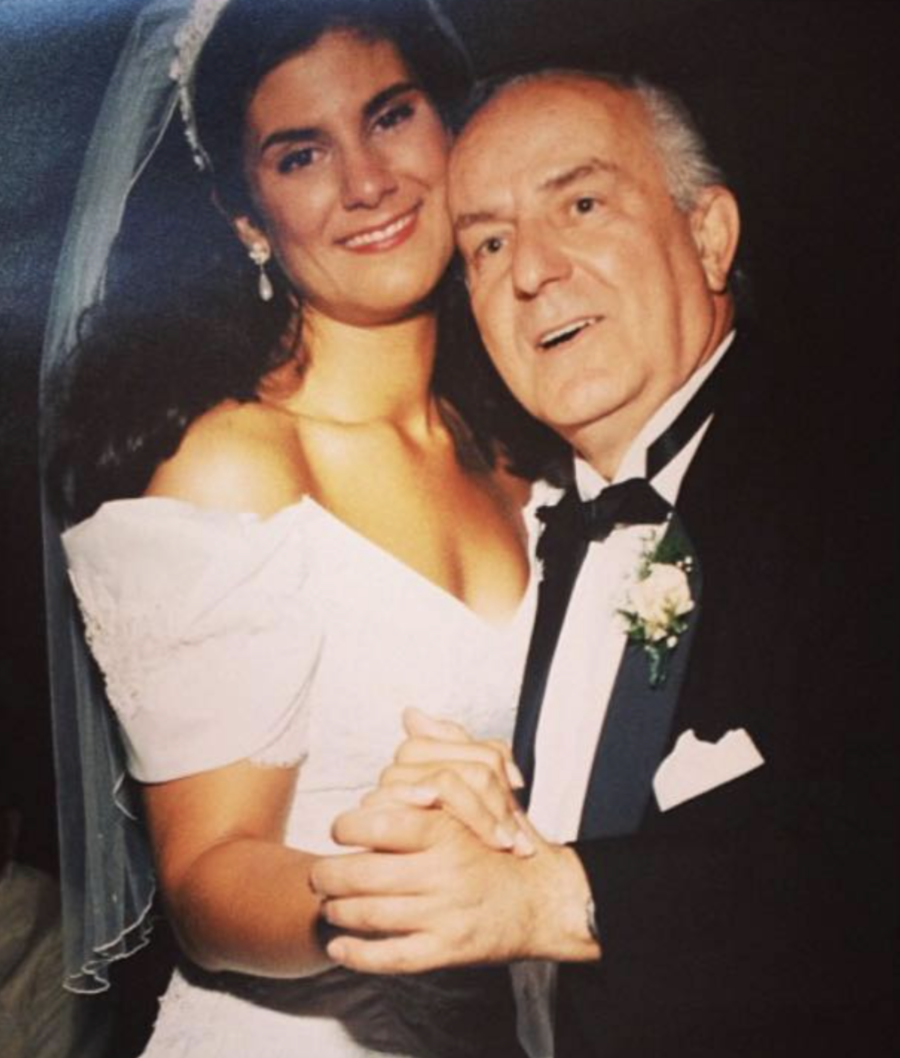 Georgia and her father, Jim, dance at her wedding in 1993. The song? "Georgia on My Mind," of course!
As the youngest of four children, I was raised in a tightly knit Greek-American family. Proud of our heritage, my parents often shared our ancestors' stories in Greece and their struggles during the war. Profound ones that make me thankful for the sacrifices they made in their lives. In addition, my Dad would share daily affirmations or mantras with us to get through challenging times. One of his favorite lines echoes through my mind as we weave our way to the end of 2020. This too shall pass, he said to me regularly, and indeed it will. I find my father's "voice" reassures me as I balance all aspects of school life and the worries that come with leading a school during a pandemic. I hope you have mantras that help keep you positive and focused on all we have to do to get through each day. The mind-body connection is important during stressful times, and I hope you take time to pause, reflect, and marvel at all the good around us. Looking through the eyes of a child always fills me with wonder and joy. As we continue this through this uncertain school year, I know I am fortunate and most grateful to be #falconstrong!

Over the last few days, I had a chance to speak to parents, teachers, and students about our desire to keep in-person learning our focus. And yes, I know that things are different this year, but we support each other, making our community stronger than ever.